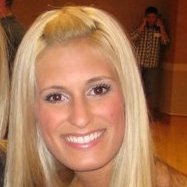 U.S. Homeland Security Investigations (HSI) recently recognized Rachel Sitarz, a CERIAS PhD Candidate in Cyber Forensics, for her efforts in support of a nationally coordinated investigation in 2012.
The HSI Executive Associate Director's Annual Awards Program recognized the Chicago Office for "Outstanding Investigative Accomplishments - Immigration Fraud" in "Operation Island Express". The investigation targeted a transnational document trafficking organization based in Puerto Rico. The trafficking organization sold the identities of Puerto Rican U.S. citizens and corresponding Social Security cards and birth certificates to undocumented aliens primarily from Mexico, Dominican Republic and Central America.
Prior to beginning her PhD at Purdue University, Sitarz worked as a Criminal Intelligence Analyst for the Indiana State Police (ISP). While with the ISP, Sitarz' contributions to the investigation led to the 87 federal/state criminal arrests with 57 convictions, 64 administrative arrests and the interception of over 1,000 identity documents.
Sitarz is currently studying Cyber Forensics in the College of Technology under Prof. Marcus Rogers. She is the recipient of the Department of Homeland Security, Science, Technology, Mathematics and Engineering Fellowship, through the Purdue VACCINE program. Her areas of research focus on the Psychology of online criminals and deviants, and Cloud Computing.
While with the Indiana State Police, Sitarz was on the Internet Crimes Against Children Task Force. At Purdue, she received her degree (BA, 2007) in Law and Society and minored in Psychology and Forensics. She also received her Masters in Cyber Forensics (Purdue, 2010).
As an undergrad, Sitarz swam on the intercollegiate team. She is a four-year letter winner.
Sources