COAST is now part of CERIAS. Visit the CERIAS web pages to learn more.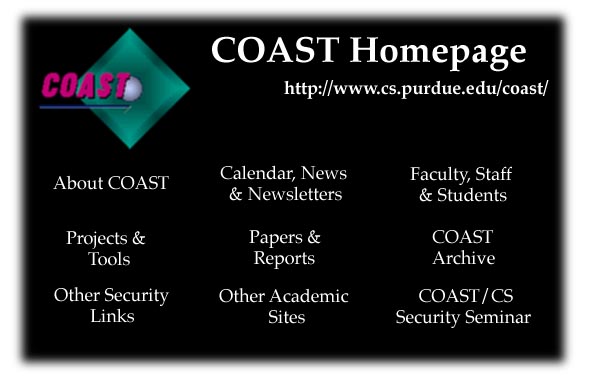 ---
COAST-- Computer Operations, Audit, and Security Technology -- is a multiple project, multiple investigator laboratory in computer security research in the Computer Sciences Department at Purdue University. It functions with close ties to researchers and engineers in major companies and government agencies. We focus our research on real-world needs and limitations, with a special focus on security for legacy computing systems.

With our recent increase in support, and in student & faculty participation, COAST is now one of largest dedicated, academic computer security research group in the world.

---
The following links can be followed to find out more about COAST, about personnel involved with COAST, and about COAST projects and publications. You can also check out our on-line security archive, which is the largest single Internet-accessible collection of security-related papers and tools.
An overview of the overall scope and goals of COAST, a précis in hypertext and PostScript, list of current sponsors and donors, information on how to become a sponsor, and an on-line opportunity to get on our mailing list.
Copies of our irregularly-published electronic newsletter, COAST Watch, and some notices and specialized information. You can join the mailing list for the newsletter from here, too.

A link to our on-line calendar of security-related events. Drop us a line if you know of something we should have listed, but didn't.
Information on the faculty and students at Purdue who are associated with COAST. Also, information on some former COAST personnel who have left Purdue.
Brief descriptions of current and completed research projects, with links to published papers and technical reports.
A listing of recent theses, papers and reports on our projects, plus a few other papers on security that associated personnel have written. (Note: some recent publications are available only to sponsors, and may not be listed here.)
The largest single archive on the Internet of papers, tools, standards, reports, mailing lists, and other information related to computer security, law, incident response, and information protection.
Various links to other WWW pages on computer and communications security.
A list of academic programs in computer security, network security, computer crime investigation, and EDP audit at other institutions around the world.
This page contains listings for proceedings and papers held by the COAST Lab as well as the table of contents for periodicals in the COAST Lab. All listed materials are available for use in CS G18. This service is available to purdue.edu domain users.
---
---
coast-request@cs.purdue.edu