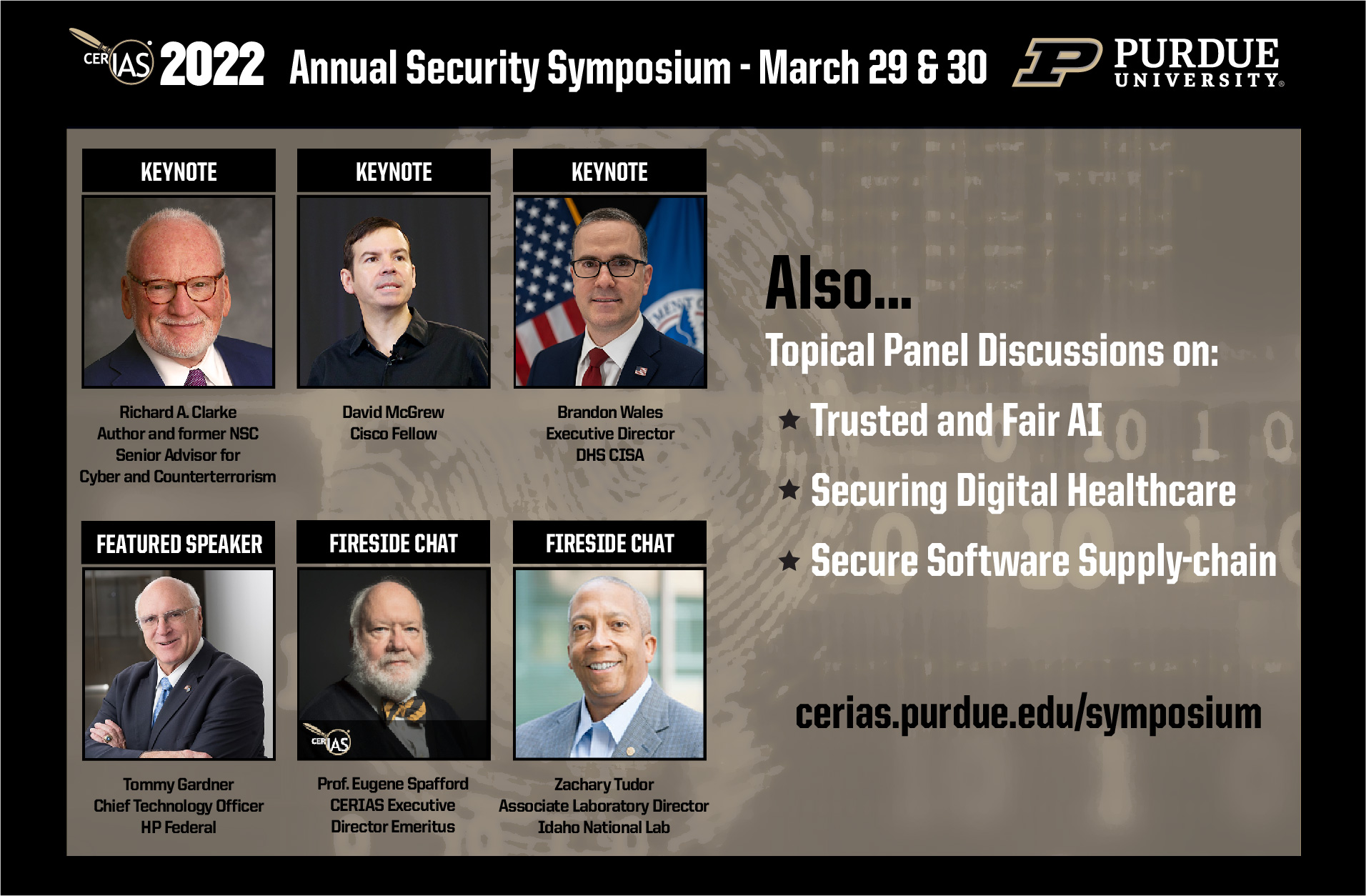 What's on the horizon, and what should you be doing?
It's cliché to say that cyber and cyber-physical risk and threats are growing, as is the list of cybersecurity predictions for 2022. Often, people reiterate a list of "all those things that were scary in '21" and note they will only get scarier in '22.
Join us for the 23rd Annual CERIAS Security Symposium at Purdue University as industry, government, and academic researchers and practitioners examine where we've been, where we're at, and what may be on the horizon. This should be of particular interest to those working in security, illustrating some of what should be addressed and what emerging technologies promise to change the paradigm.
Keynote speakers this year will include:
Brandon Wales, Exec. Director of DHS CISA
Dr. David McGrew, Cisco Fellow
Richard A. Clarke, author and former NSC senior advisor for cyber and counterterrorism
Topical Panel Discussions:
Trusted and Fair AI
Securing Digital Healthcare
Secure Software Supply-chain and Bill of Materials
Technical talks and project demos for a variety of cyber and cyber-physical security projects.
Student Poster Session highlighting a number of student projects, capstones and graduate research.
Purdue's CERIAS is the world's oldest, largest, and preeminent interdisciplinary academic education and research institute for cyber and cyber-physical systems. CERIAS personnel focus on security, resiliency, privacy, autonomy, trusted electronics, and explainable AI. In 2022 we celebrate the 30-year legacy of COAST, Purdue's first cybersecurity laboratory, and the foundation upon which CERIAS was built.
<! -- /.row -->
For More Information…
For further information on the symposium or current and future CERIAS initiatives, contact:
Joel Rasmus CERIAS
Managing Director
Phone: 765 494-7806
E-mail: info@cerias.purdue.edu