Information Security Challenges in an Academic Environment
Page Content
Page Content
Keith Watson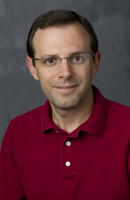 Keith Watson - Purdue University
Aug 28, 2013
Size:
294.2MB
Download:

MP4 Video

Watch in your Browser
(Flash Required)

Abstract
The university environment has unique challenges for information security. Just as corporate networks have exploded in size, services, users, and devices, university networks also have a continually changing and diverse user population, an open network that encourages collaboration, intellectual property that has requirements to be shared as well as protected, and budgetary constraints that reduce services or move data outside of the university. This talk will explore some of these issues.
About the Speaker
Keith Watson is a security architect for IT Security & Policy at Purdue University. Previously, Keith spent ten years at CERIAS as a research engineer.
Unless otherwise noted, the security seminar is held on Wednesdays at 4:30P.M. STEW G52, West Lafayette Campus.
More information...
© 1999-2014 Purdue University. All rights reserved.
Use/Reuse Guidelines
CERIAS Seminar materials are intended for educational, non-commercial use only and any or all commercial use is prohibited. Any use must attribute "The CERIAS Seminar at Purdue University." Opinions expressed in the recordings are not necessarily representative of the views of CERIAS or of Purdue University.