Professor Spafford Interview (pkiforum.com)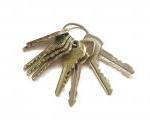 PKIForum.com has published a multi-part interview with Professor Spafford discussing security from the user's standpoint, as well as PKI (Public Key Infrastructure) issues.
From the article:
PKIForum.com: What is your specialty?

Spafford: I have worked in a number of areas, including fault-tolerant systems, software engineering, [and] networked operating systems. But for the last nine to 10 years I've been working almost exclusively in the area of information security systems and technologies, and integration of that with research in areas related to computing that have an impact on security and reliability of computing systems.