Initial projects showcase Purdue's interdisciplinary approach to cybersecurity
WEST LAFAYETTE, Ind. — Proposed research at Purdue University is developing innovative solutions using artificial intelligence to enhance the security of current and future Rolls-Royce platforms powered by the company's propulsion systems.
Shaoshuai Mou, an assistant professor in aeronautics and astronautics, is the leading principal investigator on a project focused on the integration of artificial intelligence with classical theories for intrusion detection in resource-limited embedded systems. He is joined in the project by co-PI Ding Zhao, assistant professor of mechanical engineering at Carnegie Mellon University.
The project is one of three from Purdue accepted by Rolls-Royce as part of a newly launched Cybersecurity Technology Research Network, which the company announced today (April 22). The network, which is a partnership between Rolls-Royce, Purdue University's Center for Education and Research in Information Assurance and Security (CERIAS) and Carnegie Mellon University's CyLab, is focused on improving the cybersecurity for platforms powered by the company's propulsion systems.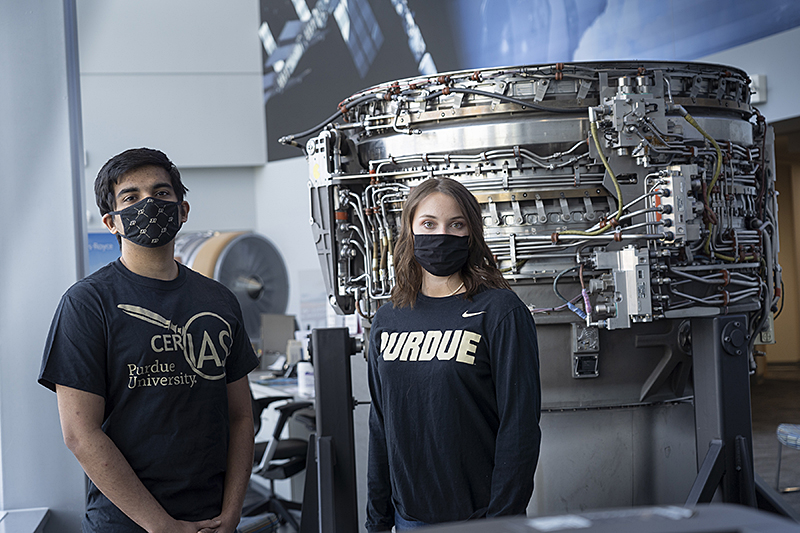 Kaitlyn Knabe, a junior cybersecurity student in the Purdue Polytechnic Institute, and Vijay Sundararajan, a graduate student in Purdue's Interdisciplinary Cybersecurity degree program, stand in front of a Rolls-Royce lift fan on display at the Purdue Technology Center Aerospace building. The facility houses part of Rolls-Royce's research and development. (Purdue University photo/Vince Walter) Download image
The Cybersecurity Technology Research Network is the latest chapter in a long-standing partnership between Purdue and Rolls-Royce, one that continues to strengthen the state's economy. As a Rolls-Royce global University Technology Partnership, Purdue is recognized as a critical part of the company's technology and development strategy. Through this new network, Rolls-Royce can access the broad expertise of Purdue's researchers, who lead in cyber-physical systems with a focus on security, autonomy and resiliency.
Collaborations in recent years have included the construction of the Purdue Technology Center Aerospace, a facility in West Lafayette where the company conducts research and development for jet engine components, and a new turbine test rig at Zucrow Laboratories on the West Lafayette campus. The partnership between Rolls-Royce, Purdue and the state of Indiana was supported in part by a $6 million commitment over three years by the Indiana Economic Development Corporation.
The university's cybersecurity program is ranked No. 6 nationally, and Purdue's CERIAS is viewed as one of the world's leading centers for research and education in areas of information security that are crucial to the protection of critical cyber and cyber-physical infrastructures.
Cybersecurity was also just announced as a critical research topic under Purdue's new national security and technology strategic focus area. The announcement of Purdue's Next Moves on April 9 included five strategic focus areas that will advance the university's competitive advantage.
"Purdue's involvement with Rolls-Royce underscores the importance of industry and academic collaboration to address emerging cyber and cyber-physical threats," said Theresa Mayer, executive vice president for research and partnerships. "Our researchers can leverage their expertise and perspective to identify projects and develop solutions to challenges facing these industries today."
Hear more from Mayer on Purdue's cybersecurity work.
As part of his research project, Mou is focused on developing techniques for cybersecurity that works well in systems that must operate in harsh environments with high temperature and significant noise, such as an aircraft. The research will look to integrate recent advances in artificial intelligence and learning with classical optimization theories in developing these new techniques.
The research also will explore how to enhance security resilience for embedded systems.
"This project shows great promise in empowering embedded systems with intelligent, resource-efficient cybersecurity capability," said Dongyan Xu, director of CERIAS and the Samuel Conte Professor of Computer Science.
Hear comments from Joel Rasmus of CERIAS on Purdue's partnership with Rolls-Royce and Carnegie Mellon University.
Also accepted in to the Rolls-Royce research network were:
A proposal by Ananth Grama, the Samuel Conte Professor of Computer Science, for a one-year research project on cybersecurity. Grama said the project aims to develop new techniques to optimize security of systems in resource-constrained environments, and to test these innovations in real-world systems. The focus of the project is on developing models and methods in noisy environments.
A proposal by Sorin Matei, professor and associate dean for research and graduate education in the College of Liberal Arts, to develop a method of testing Rolls-Royce job candidates for the ability to think in terms of trade-offs by evaluating them on tasks that require systems thinking. The method will use a gamelike scenario to test the candidates in a complex, engaging way. Matei said the successful candidates will be the ones who demonstrate the ability to see that all choices involve costs and that all costs have long-term, systemwide implications, not just local and immediate costs.