CERIAS Congratulates Ashish Kundu for IEEE Award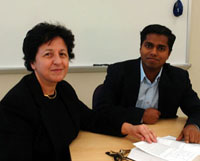 CERIAS graduate student Ashish Kundu received an award for the Best Student Paper at the 10th IEEE International Enterprise Distributed Object Computing conference (EDOC 2006) held in Hong Kong, China, on October 16-20, 2006. This is a joint work with his advisor, Elisa Bertino, CERIAS' Director of Research.

The award winning paper is titled "Secure Dissemination of XML Content using Structure-Based Routing." The award is annually given to the best papers having at least one author as a full-time student.