9th Annual CERIAS Information Security Symposium: March 18, 2008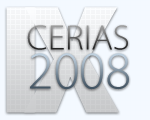 CERIAS — The Center for Education and Research in Information Assurance and Security — invites you to The Ninth Annual CERIAS Symposium to be held March 18, 2008
Information Security has been an issue for a relatively small number of technologists for the past 30 years. However, over the past couple of years, there has been a major increase in interest. Even the media have picked up the "buzz."
A coordinated cyber attack shut down a nation's economy
Identity fraud became front page news
Major industry-specific legislation is introduced to guard citizen's privacy
Practitioners apply 40-year-old technology to today's networks
Current conversations on network security, information assurance, and privacy have moved out of the IT machine room and into the boardroom, congressional committee, and the family dinner table.
Join us at the CERIAS Symposium for an examination of how researchers from academia and industry's innovators are addressing tomorrow infosec needs.
Panel Discussions:
Virtually Secure or Securely Virtual
Malware and Trojans and Intrusions…oh my!
Wireless: Can you secure me now?
Finance & Healtcare: The same; but different
The 2008 symposium has been moved to the Richard and Patricia Lawson Computer Science Building (LWSN). Parking is available to off-campus visitors in the University Street Parking Garage, across fromLWSN, at a rate of $5.00 per day. Union Club Hotel guests receive a permit for free parking in the Grant Street Garage.
We look forward to seeing you in March!
Gene Spafford, Executive Director, CERIAS